1. Utilize Facebook Custom Audience's to Create a Customer File. 
The Facebook custom audience tool is an excellent way to reach existing customers and obtain a greater share of wallet. Using the customer file allows organizations to upload their existing customer email database, and match the existing database up to Facebook users. Therefore only serving Facebook advertising to users who are already part of your existing membership. This allows organizations to upsell an create awareness of new promotions that apply only to existing members.
It's easier to sell to current customers than to look for new ones, so strengthen your existing connections by using Custom Audiences. We'll compare your data with ours to help you find the people you know on Facebook.
2. Increase Awareness of Business Banking by using the "Targeting by Company" function within the LinkedIn Advertising platform, and Retargeting/Nurturing via Facebook. 
LinkedIn is an excellent advertising platform. It allows business to business organizations to use very granular targeting strategies. In regards to credit unions, we can help work with your team to create a list of businesses, and only serve advertising to a white list of organizations. In this particular case we would suggest creating awareness and beginning the funnel via LinkedIn, and offering some sort of content that businesses may be interested in. For Example, "3 Reasons Why Credit Union XYZ can Save Your Business XYZ Dollars a Month". We would place a Facebook Retargeting pixel on the piece of content, and ask for action via a Facebook Retargeting campaign. Therefore filling your funnel with a qualified audience.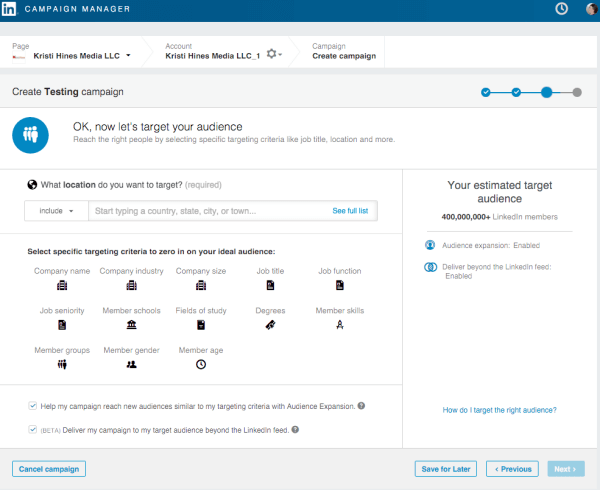 3. Drive Scale and Awareness via Programmatic Display.
Programmatic Display allows Credit Union's to hone in on a specific audience, at an affordable rate. That said, the ad units are not as engaging as social advertising, therefore it is imperative to have a tactical tracking strategy. Based on previous knowledge, we have found that display media has a high rate of viewthrough's. A viewthrough is when someone has seen an impression, but did not click the ad unit. Therefore the user saw the ad unit, but visited the site via a different means such as search or direct traffic. The aforementioned solutions are excellent for banking products with competitive rates.
About Reverb Strategy
We are driven by results and love the outdoors. Reverb Strategy helps simplify the complex digital ecosystem by helping organizations plan and execute integrated digital strategies. We use a client first approach to help build the proper foundation for paid, earned and owned media.